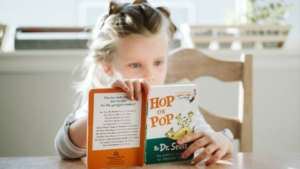 Speech therapy helps kids with language-related issues or disorders that affect their speaking, listening, and writing skills. Speech therapy is also helpful in treating disorders such as dyslexia, dyspraxia, and auditory processing disorders.
A Speech-Language Pathologist (SLP) can figure out what language problem your child is struggling with, and from there, determine the cause and best treatment.
Speech therapy can help your child learn to speak more clearly, which can help them feel more confident and less frustrated when communicating.
In order to accomplish said goals, SLPs aspire to create a positive and nurturing environment in which your child can feel confident and safe. Such an environment is essential for your child's speech-related growth and development.
What's the difference between in-home and office (Outpatient) speech therapy?
In-home speech therapy is when a speech-language pathologist has one-on-one sessions with your child in your home. Office speech therapy is a traditional speech therapy session in the office of the SLP.
City Speech Center offers both in-home and office speech therapy. Besides from the obvious convenience of being able to brew a fresh pot of coffee in your own kitchen, what are the pros and cons of in-home speech therapy vs office speech therapy?
Benefits of In-home speech therapy
Aside from the potential stresses associated with being in a foreign environment, in-home therapy can reduce stress related to travel time and physical activity, which saves your child's energy for their speech therapy session instead.
And because your child is comfortable in their own home environment, the SLP can achieve a better understanding of what the child's language issues are related to.
Benefits of Office (Outpatient) speech therapy
Speech therapy in an office setting has significant advantages. Firstly, the patient has more privacy from their family and friends, which better allows them to grow and develop at their own pace.
Secondly, your child will receive individual attention without the same distractions that may exist in the home setting. Therapy rooms are often devoid of distractions so the student can focus on the therapy. This results in a higher quality of care that's more individualized, ultimately resulting in progress at a more rapid rate. Additionally, office therapy can inspire better behavior which is crucial for the child's growth. Finally, in office therapy means the therapist has immediate access to all of the materials, tools and props needed for a successful therapy session.
Which is the better choice?
Most speech therapy strategies can be successfully implemented in either setting, such as:
Language intervention activities: These activities use pictures, books, or play-based therapy.
Articulation therapy: This strategy helps to model the sounds the child has difficulty with and includes demonstrating how to move the tongue to make certain sounds.
That said, the advantages of in office speech therapy typically outweigh the advantages of in home therapy. This due to the privacy; individual attention without distractions; the tools and materials readily available; and the increased chances of better behavior, thereby increasing the speed of the results.
Looking for a child speech pathologist for in-home or Office (Outpatient) speech therapy?
City Speech Center offers in-home speech therapy and in-office therapy for kids so they can receive speech therapy catered for individualized growth. For more information about our speech therapy services, contact City Speech Center today.